Crunchy Polenta with Miracle Fruit
While this may seem like a pretty upscale dessert, the flavors are comforting and familiar. The balsamic vinegar and strawberries marry perfectly with the polenta and lime. The perfect Italian dessert, it's certain to become a family favorite.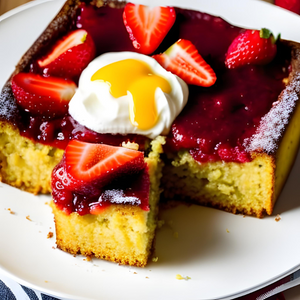 Recipe by Homaro Cantu in The Miracle Berry Diet Cookbook. Makes 8 servings.
Ingredients
Strawberries

1 cup balsamic vinegar

1 pint strawberries, stemmed and quartered

2 tablespoons agave nectar

2 sprigs rosemary

1/4 cup shredded fresh mint leaves
Cake

Canola oil spray

3 1/2 cups unbleached all-purpose flour, plus more for the pan

1 cup polenta (coarse yellow cornmeal)

1 tablespoon baking powder

1/4 teaspoon salt

3/4 pound (3 sticks) unsalted butter, melted

1/3 cups agave nectar

4 large eggs, beaten

1 cup freshly squeezed grapefruit juice

Grated zest of 6 limes

Fresh mint sprigs, for garnish
Directions
FOR THE STRAWBERRIES:
Slowly heat the vinegar to a simmer.

Transfer to a bowl and stir in the strawberries, agave nectar, rosemary, and mint.

Cover with plastic wrap and let sit at room temperature for a few hours. (Heating the vinegar will help release the essential oils from the rosemary and mint.)
TO MAKE THE CAKE:
Preheat the oven to 325 degrees F.
Spray a 9-inch square baking pan with canola oil and sprinkle with flour, tapping out the excess.
In a large bowl, combine the flour, polenta, baking powder, and salt.
Make a well in the center.
In a separate bowl, combine butter and agave nectar.
Stir in the eggs, grapefruit juice, and lime zest.
Pour into the well in the flour and mix until combined.
Transfer the batter to the pan and smooth the top.
Bake for 25 minutes or until toothpick inserted in the center of the cake comes out clean.
Cool on a wire rack.
Turn up the oven temperature to 350 degrees F.
When the cake is completely cool, cut into 1-inch cubes and spread on a baking sheet.
Bake for 5 minutes.
Drain the strawberries, discarding the rosemary and all but 1/4 cup of the liquid.
Serve the cake cubes with the berries and garnish with mint sprigs or store refrigerated, covered in plastic.
When you are ready to eat, let the Miracle Berry tablet dissolve on your tongue and then enjoy the dish.