The Ultimate List of Foods to Eat with mberry
Now that you have your Miracle Berries, what are you going to eat? Our team at mberry has tested and scoured the internet for all of the delicious and weird food pairings you could eat with mberry.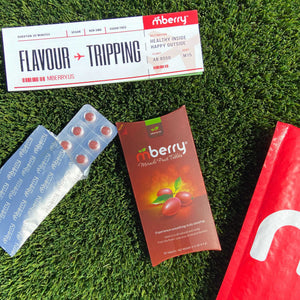 What to Eat with Miracle Berry
Curious
Lemon

- Transforms jaw clenching sourness, to drooling sweetness

Limes

-  Identical to the frozen limeade juices at the grocery store

Orange

- No words, you have to try this

Tomato

- Candy dipped juicy tomato

Pineapple

- Excruciatingly sweet, be prepared

Kiwi

- More flavor, tastes like it was freshly picked

Strawberries

- Strawberries as sweet as cotton candy at the fair 

Grapefruit

- Tastes like a cup of sugar was poured on top 

Broccoli

- Does not taste like chocolate, still broccoli 

Brussels Sprouts

- See above, do not like, stinky 

Green Bell Pepper

- a tad sweeter, does not compare to a lemon

Watermelon

- Reminds us of the song Watermelon Sugar

Green Tea

- No true change unless a dipping of honey is added

Cherries

-Not tart, but be careful with cherries
Adventurous
Rhubarb

- No citrus notes, enhanced sweet flavor

Ketchup

- Incredibly sweet, probably not the best for your bacon cheeseburger

Mustards

- Ground mustard is not as strong and yellow mustard turns into a sweet sauce

Salt and Vinegar Chips

- A sweet and salty snack

Anything Pickled

- Dill turns into sweet, tanginess gone

Sour Cream

- Thicker, denser whipped cream

Olives

- Stuffed are okay depending on the kind, but olives will always be olives and there is nothing wrong with that they're still so delicious 

Cream Cheese

-  A must for cheesecake lovers, just add fruit. Also heard cannoli filling? 

Apple Cider Vinegar - Apple juice
Enlightened
Tabasco

- Pepper flavor more prevalent

Guinness

- Look out! New milkshake recipe

Blue Cheese

- Turns mild but still some cheesiness

Goat Cheese

- Buttercream with a slight hint of goat

Kombucha

- No vinegary taste, more fruit juice like

A1 Steak Sauce

- Confusing…words cannot describe this one

Soy Sauce

- A thinner version of eel sauce

Vinegar

- Sweeter water

Cottage cheese

- Blend and turns into cake frosting

Extremely Spicy Foods - This does not work and will still be very hot.  Do not attempt
Need mberry? We got you. Get your mberry here
*Eat, Drink, and Love Responsibly. Not everyone will experience these same flavors. 
Check out our lists on Instacart: 
How Do mberry Tablets Work?
mberry tablets are made of Miracle Fruit that contains a protein called Miraculin. This protein binds to your tongue receptors as it is being dissolved on your tongue. The Miraculin changes shapes when it comes into contact with sour, bitter, sweet, and sometimes spicy. 
Miracle Berry Side Effects
There are no known side effects of Miracle Berries except the sweet effect and a possible tummy ache from the large variety of foods and citrus. It is completely safe in all forms, just don't eat the seed in fresh or freeze dried forms!