Over-the-Top Lemon Layer Cake with Miracle Fruit
The name says it all. A moist light cake that's filled with homemade lemon curd is over the top.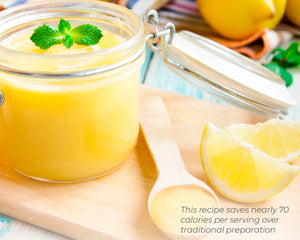 Recipe by Homaro Cantu in The Miracle Berry Diet Cookbook. Makes one 9-inch layer cake, 10 servings.
Ingredients
Canola oil spray
2 1/2 cups whole-wheat flour
1/2 teaspoon salt
1 tablespoon baking powder
1 cup skim milk
1 cup vegetable oil
1 teaspoon pure vanilla extract
1 tablespoon grated lemon zest
4 large eggs
1/2 cup agave nectar
Directions
Position a rack in the middle of the oven and preheat the oven to 350 degrees F.
Spray two 9-inch cake pans with canola oil. Line the bottom of each pan with a round of parchment or wax paper and spray the paper.
Whisk together the flour, salt, and baking powder. In a separate bowl, combine the milk, vegetable oil, vanilla, and lemon zest.
With an electric mixer, beat together the eggs and agave nectar until combined, about 1 minute.
Turn down the mixer speed to low and add the flour and milk mixtures alternately, beginning and ending with flour. Mix until just combined.
Divide the batter evenly between the pans, and smooth the tops. Bake for 35 to 40 minutes, until a toothpick inserted in center of each cake layer comes out clean.
Cool the cake layers in the pans on wire racks for 10 minutes.
Run a thin knife around edge of each cake pan and invert cakes onto the racks to cool completely.
To assemble the cake, slice each cake layer in half horizontally using a long serrated knife.
Spread the bottom half of each layer with half of the lemon curd, then top with remaining cake layers to form two sandwiched cakes.
Place one sandwiched cake on a cake stand or platter and spread with 1/2 cup of the frosting.
Top with the other sandwiched cake.
Frost the top and sides of cake with the remaining frosting.
NOTE: Cake layers can be made a day ahead and cooled completely, then wrapped tightly in plastic wrap and kept at room temperature. The lemon curd can be stored for up to 3 days in the refrigerator. The frosted cake can be covered loosely with plastic wrap and refrigerated for up to 1 day. Bring to room temperature before serving.
Lemon Curd
Perfect lemon curd has to have the right balance of sweetness and pucker. This creamy, golden filling is delicious with scones or crepes, or atop fresh berries. Makes two cups, 5 servings, a little less than 1/2 cup per serving.
Ingredients
2 teaspoons grated lemon zest
3/4 cup freshly squeezed lemon juice
1/4 cup agave nectar
3 large egg yolks
Pinch of salt
4 tablespoons (1/2 stick) unsalted butter, cut into tablespoons
1/4 teaspoon lemon extract
Directions
In a saucepan, whisk together the lemon zest and juice, agave nectar, egg yolks, and salt.
Add the butter and cook over medium-low heat, whisking constantly, for about 5 minutes, until the mixture is thick enough to hold the marks of the whisk and first bubbles appear on surface.
Whisk in the lemon extract.
Pour into a bowl and cover the with plastic wrap or wax paper directly on the surface. Refrigerate until cold, about 30 minutes.
Lemon curd can be stored for up to 3 days in the refrigerator.
Lemon Buttercream Frosting
This recipe obtains sweetness and flavor from the lemon juice. Makes about two cups.
Ingredients
1/2 pound (2 sticks) unsalted butter, softened
3/4 cup agave nectar
1/2 cup freshly squeezed lemon juice
1/2 teaspoon lemon extract
2 teaspoons grated lemon zest
Directions
With an electric mixer, beat the butter on high speed until light and fluffy, about 1 minute.
Turn down the mixer speed to low and add agave nectar, lemon juice, lemon extract, and lemon zest.
Mix until creamy and smooth, about 2 minutes.
Refrigerate covered with plastic wrap.
When you are ready to eat, let the Miracle Berry tablet dissolve on your tongue and then enjoy the dish.
Replacing 2 cups of sugar from the cake, with 1/2 cup of agave nectar and the sweetness from the berry saves 106 calories per serving. The Buttercream Frosting saves an additional 62 calories per serving, and the Lemon Curd saves an additional 34 calories per serving, for a total of 202 calories saved per serving