Mocktails with Miracle Fruit
Take a dive into a thrilling mocktail adventure inspired by Chef Homaro Cantu and the magic of Miracle Berries. From the tantalizing Polar Cherry to the refreshing Mira-jito and other creative concoctions, let your inner mixologist shine as you experiment with these delightful recipes.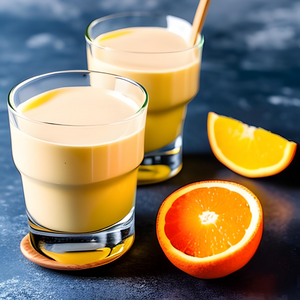 Get ready to ignite the mocktail madness! We've handpicked a sensational array of beverages, inspired by the legendary Chef Homaro Cantu with the use of Magic Berries. While these measurements tantalize our taste buds, we know yours might dance to a different beat. So, let's don our creative aprons, hit the kitchen, and embark on a thrilling flavor expedition! It's time to mix, blend, and concoct some serious fun!
Before consuming: 
Place one tablet in mouth and dissolve

Crush tablets into a fine powder and coat rim or a portion of glass using water

Ingredient portions based off of our taste buds, they may need adjusting
---
Polar Cherry
A sweet polar bear offered me a drink. Mmmm cherry, mmmm sweet dark syrup.
Ingredients:
3 oz natural cherry juice

3 oz sparkling water

1 *pipette of balsamic glaze (0.5-1 teaspoon)

Ice

Fresh cherry with stem 
Directions:
Fill a 6 oz glass with ice cubes

Pour the cherry juice and sparkling water over the ice in the glass

Using the pipette, add balsamic vinegar inside and serve with glass to allow yourself to add the right amount

Garnish with a fresh cherry 
Note: The pipette can hold approximately 1/4 to 1/2 oz of liquid, depending on the size of the pipette. Adjust the amount of balsamic vinegar used to your personal taste. The pipette is for decoration but can be omitted.

Inspired by: Cherry Coca-Cola by Chef Cantu
---
Mira-jito
 A spin on a miracle mojito, just add sweetness.
Ingredients:
1 oz lime juice

1/4 cup loosely packed fresh mint leaves, muddled

1/2 tsp fresh ginger, peeled and grated

3 oz sparkling water

Ice 

Curled lime zest or lime wedge and mint 
Directions:
Fill a 6 oz glass with ice cubes

In a shaker, muddle fresh mint leaves and fresh grated ginger

Add lime juice, sparkling water, and ice 

Stir gently until cold

Pour over ice. Straining is optional

Garnish with a lime or ginger, and serve
Note: Adjust the amount of lime juice and ginger used to your personal taste. Also, you can adjust the amount of sparkling water used if you prefer a stronger or weaker drink.
Inspired by: Mojito by Chef Cantu
---
Butterfly Effects
Two effects for the price of one, and no repercussions…that are known. 
Ingredients: 
2 oz lemon juice

3 oz butterfly pea tea 

1 butterfly pea flower tea bag or 1 tsp of loose leaf tea steeped 

6 oz boiling water (for steeping)

Ice

Piece of butterfly tea flower for garnish or edible purple flower
Directions: 
Steep the butterfly pea tea in 6 oz of boiling water for 5-10 minutes until desired color is achieved

Remove tea bag or strain loose leaves and cool

Fill a 6 oz glass with ice cubes

Add butterfly pea tea to glass and top with ice

Garnish with lemon slice, pieces of tea, or purple edible flower

When ready to serve, pour lemonade over the tea to show the color changing effects
Note: Adjust the amount of lemon juice and tea used to your personal taste. 
Inspired by: Arnold Palmer
---
Colada Crush
Surf the brain waves on this beach inspired mocktail.
Ingredients:
3 oz coconut water

1.5 oz pineapple juice or slightly muddled chunks

½ oz  lime juice

Ice

Pineapple leaf
Directions:
Combine coconut water, pineapple juice or muddled chunks and lime juice and shake, stir, or blend with ice until cold and smooth

Pour into glass 

Garnish with pineapple leaf and serve
Note: You may need to adjust the ice depending on the blender. You can omit the blender for a thinner consistency with pineapple juice and serve over ice. If the flavor is not coconut enough, add a tiny bit of coconut extract or coconut meat that can enhance the flavor even more. 
Inspired by: Pina Colada by Chef Cantu
---
Ruby's Rosemary Refresher
Our neighbor Ruby was raving about her new rosemary plant and offered us inside for a refreshing beverage!
Ingredients:
2 oz grapefruit juice

1 sprig of rosemary (can hit with fire to emerge the flavor or muddle)

3 oz sparkling water

Ice

Garnish with fire rosemary or add fresh if muddled
Directions:
Muddle the rosemary in the bottom of a glass to release flavor or quickly heat the rosemary with a lighter or torch to enhance the flavor and place on side of glass

Fill a 6 oz glass with ice cubes

Pour in the grapefruit juice and stir if fire heated rosemary

Alternatively, you can muddle in a shaker and add grapefruit juice and ice and shake until cold and strain into fresh glass with ice

Add sparkling water to top 

Garnish with a fresh sprig of rosemary
Inspired by: Grapefruit Rosemary Spritzer
---
Melted Mayhem
It's 5pm and the ice cream truck's refrigeration broke. Now you're left with a melted mess of a creamsicle. 
Ingredients:
2 oz orange juice

1 oz half and half

1/2 teaspoon vanilla (optional)

Ice

Orange slice

Wood craft stick
Directions: 
Combine the orange juice, half and half, and vanilla extract in a shaker

Add ice to the cocktail shaker and shake vigorously for 10-15 seconds to mix the ingredients together

Strain the mixture into a glass filled with ice

Garnish with an orange slice, wooden stick, and serve
Inspired by: Creamsicle Shot by Chef Cantu
---
Unleash your inner mixologist with these upcoming recipes that are designed for you to test and master. Bid farewell to measurements and embrace the freedom of creativity with a focus on the ingredients alone. It's time to step into the realm of true mixology and craft your own signature drinks.
Banana Split
The only banana split you wont slip on
Cherry juice

Lemon juice

Cocoa powder

Banana infused milk

Blended cottage cheese or sour cream for topping
Churro Doughnut
Ever wondered what a churro tastes like in smoothie form?
Cinnamon

Blended jasmine rice

Orange juice

Liquid smoke (hint: only a dash)